Everyone had a great time at our 2013 pool party on June 20th.
2012 Pool Party!
We got a personal phone call from Dr. Helms the day after my 2 girls got their braces on – he checked in to see how they were doing, answered some questions and gave some advice. VERY classy – you don't see that personal connection much anymore. That extra effort was GREATLY appreciated! – Laura P.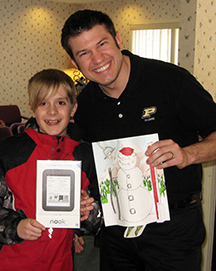 Our winter contest winner was Teddy Balser! Teddy decorated his snowman by creating a 3D landscape that included toothbrushes, teeth, and other dental related items. Teddy received a Nook Simple Touch for winning the contest! Stay tuned for more opportunities to participate in fun contests at Image Orthodontics!